Interview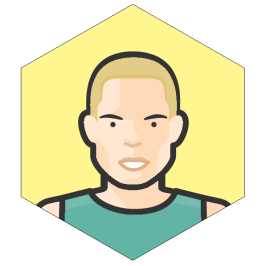 We talked with Krzysztof Ćwiertnia in March, 2020.
Stats
Krzysztof Ćwiertnias Stats When We Talked with Him 💪

👋 Hi! Tell us about yourself and your training
Hello! My name is Kriss and I am currently 29 years old. I live in Poland. I have been working in the gym for seven years as a personal trainer, I spend mainly my time there. In my free time, I like to spend my time with friends or go outside the city.
I started training 13 years ago when I was in high school. I was very thin and shy at the time, I found that if I change my appearance a bit, it will increase my confidence.
I started training at home using my own equipment, which lasted for about a year. Later, I started training in the gym with my friend. My dad also loves training and he showed us how to do it. I like training because it allows me to break away from my everyday life.
⏱ Describe a typical day of training
---
The period of building mass is hard for me, I have a fast metabolism and it is much easier for me to do fat reduction.
---
The way I train depends on what stage I am at. When building muscle mass, I would train four times a week for 45-50 min only strength training. I stick to the obligatory meals that I have during this period, but I also often eat something in addition to increase calorie during the day.
The period of building mass is hard for me, I have a fast metabolism and it is much easier for me to do fat reduction.
When it comes to supplementation, it mainly uses liquid carbohydrates and protein concentrate after training, plus a vitamin complex and minerals.
When reducing body fat, I mainly lower carbohydrates in meals and start doing cardio, most often it is a treadmill or a stationary bike.
In this case, I'm already watching over my diet. I increase strength training up to 5 times a week and do the same amount of cardio after about 45 minutes. I will not describe what my training plan looks like because it changes a lot.
I don't think there are any men here, probably like most guys, I like doing chest press with dumbbells on a horizontal bench and biceps on a prayer book. As for cardio, I do differently depends on the desire, treadmill or stationary bike.
In my fitness bag, I have a change of clothes, a training belt, and a shaker.
👊 How do you keep going and push harder?
For me, there is no such thing that I will not make my training plan during the whole week. For example, I have four workouts to do and I have to do them. Whether after work or between work with the mentees. I have a lot of motivation and self-denial. There will always be time for training – you just have to want it.
My biggest challenge was the Polish Junior Championships in 2013. It was my first and now the last competition. At that time, I didn't know how much work was needed to get on stage.
🏆 How are you doing today and what does the future look like?
I have no special plans for my life. There will be time for everything, for wife and child. 😉
I live practically from day to day. I train for myself and I do not focus much on competitions. I feel good about it. It gives me joy and satisfaction.
If I had the opportunity to start my training adventure again, I would go to a qualified trainer to learn the basics fast.
🤕 How do you recover, rest and handle injuries?
I try to train technically, but as you know sometimes there is a greater desire to fight with weights.
When something hurts, I would reach for some anti-inflammatory drugs, and when I suffer a lot, I would go for a sports massage.
Unfortunately, due to the busy schedule, I sleep short, about 6.5 hours. As for traveling, I do not put so much emphasis on the woodwinds, I consider this time to be a little rest and let my head rest as well.
🍎 How is your diet and what supplements do you use?
---
---
As for my meals, when making muscle mass, very often it rotates and there are changes. I don't count calories. I watch my body very much. After so many years, I've worked very intuitively more because I am not getting ready for the competition but I do it for myself.
The same during reduction, I watch over the diet during the first six to seven weeks, and as I see that the whole combustion machine has started, I allow myself to make big changes.
As a result of cardio, I have a fast acceleration of metabolism, I can see how it reacts, for example, to the caloric excess from carbohydrates. Post-workout supplements are a protein concentrate and I can focus on it, rarely any burners.
I have no problem with going to the club or going out with friends, we love playing but we normally do not drink alcohol. However, when I have severe hunger attacks, I would try to have drinks with sweeteners.
I will not cheat, but I like to eat fast food. I have no major problems with this. I will change something else in my meals later.
👍 What has inspired and motivated you?
I work in a gym where mainly bodybuilders train and I get inspiration from them on a daily basis. The person I learn a lot from is my boss Radek Słodkiewicz, a leading bodybuilder in Poland. He motivates me during training, I assume that if I want to change something I have to do training.
✏️ Advice for other people who want to improve themselves?
If you start the adventure with the gym, it's best to have someone who already has some knowledge and will guide you in this.
I see a lot of people who come and do not cope with the equipment and do not know technically how to do exercises.
You are a beginner, do not be afraid to ask for help from others at the gym, everyone once came to the first training and did not know what to do. We are here to help each other.
🤝 Are you taking on clients right now?
Yes, I have clients who come to me for a long time. Charges have changes and their personal results, but it really depends on the body and sticking to my recommendations.
Why hire me? Well, you have to get to know me first and see how I work with my clients because they should be satisfied with working with me in all of this. As for results, it all depends on what stage the student is under but some see the change after a month.
📝 Where can we learn more about you?
Mainly based on Instagram @cwiertnia.trener, I don't have any personal websites at the moment.