Interview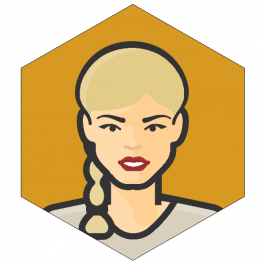 We talked with Kathrine Kofoed in December, 2019.
Stats
👋 Hi! Tell us about yourself and your training
I'm Kathrine Kofoed and I'm a plant-based health coach based in Copenhagen, Denmark. I was born in Denmark, but have lived most of my life in the US and recently moved back to study a Master's in Human Nutrition.
I'm an ACE certified Health Coach and Group Fitness Instructor. I've taught group fitness classes for over two years (HIIT, bootcamp, and spin classes), and love the high energy and excitement that goes into teaching group classes.
I've been active since my childhood where I started playing volleyball, basketball, track, tennis, and swimming for years. Volleyball was always my favorite, though, and I played that for 11 years through high school.
After high school, I transitioned into personal fitness and getting into strength training, and have been lifting weights for 6 years now.
I went vegan in March of 2014 and it's absolutely been the best change in my life. My brand is called, Passion for Plants because I'm so excited to share this lifestyle with my audience.
You can read more about Passion for Plants and my vegan cookbook here!
I initially went vegan after my mom was diagnosed with breast cancer, and wanted to do anything to lower my risk of developing cancer. Now I'm vegan for the environment, the animals, and my health.
As a health coach, I help women transition to a successful plant-based diet, overcome emotional eating, lose the last 10 pounds, and stay consistent with their healthy habits for life.
My nutrition and wellness philosophy is focused on sustainability in all aspects. I want my clients to truly enjoy their healthy lifestyle, and not feel like they're forcing themselves to do workouts they hate or eat meals they find boring. When fitness, nutrition, and healthy living feels like a chore, it is NOT sustainable.
I have a Bachelor's in Biology and a Bachelor's in Psychology so my background emphasizes the importance of physical, emotional and mental well-being, which is something I often see missing in the fitness space.
I'm very passionate about showing people you can live a healthy lifestyle on YOUR terms, not just dictated by what you see on Instagram.
⏱ Describe a typical day of training
---
I love the way yoga pushes my mental and physical boundaries, and challenges me in a whole different way than weight lifting.
---
My training philosophy is very intuitive now, something I learned after burning out hardcore and suffering from adrenal fatigue for 18 months as a result of a stressful lifestyle and overtraining.
Now I use the Tone & Sculpt app from Krissy Cela (a weight lifting app) to plan my workouts – I love using this because the workouts are so well planned, I can log my progress without much effort, and I don't have to think about what to do – just get myself to the gym.
I lift weights three to five days a week, with two upper body days and two lower body days, and often a circuit workout as well. I'm usually in the gym for a bit over an hour. I also mix in lots of long walks, which I love to get some fresh air, reflective time, or active time while on the phone with friends.
I love Zumba classes and cardio dance classes so I usually take a few of those per month as well. I believe it's essential to make sure we're enjoying our fitness routine, and not getting bored feeling like I 'have' to go to the gym if I absolutely don't want to.
I got really into yoga as well in 2014, and every year or so I go through a major yoga phase, where I'll do hot yoga for six to 12 months before going back to weight training. I love the way yoga pushes my mental and physical boundaries, and challenges me in a whole different way than weight lifting.
I've gotten to a point now where I see the value in all training styles, and love to incorporate different workouts to get good cross-training as well.
I tend to go through cycles of really enjoying weight training or yoga, which is why I'm usually doing a lot of yoga or a lot of weight training at any given time.
I emphasize to my clients and audience that the best kind of workout is the one YOU enjoy the most and see yourself being most consistent with in the long run.
Of course, if you want to build muscle you'll need to resistance training – but it's so important that you enjoy your workouts and the way they make you feel.
👊 How do you keep going and push harder?
I always say on my Instagram page that you can't rely on motivation to get you to the gym – you need to build a habit of exercise to consistently get you out the door.
Of course, there are days where I'm so not feeling it – on those days I remind myself of how good I feel after the workout, and that the type of person I want to be gets their workout in, even when it's hard.
I think because I've been active my whole life, it's very natural for me to want to exercise and do physical activity – I'm used to it and was raised that way.
I'm so grateful for my healthy, strong body and all that it can do, and I see it as such a privilege to be able to hike, run, swim, lift weights, jump around, etc. – so many people can't do that.
I want to live a healthy, vibrant, energetic life long into old age, and I know consistent activity (along with other things) is the way to do that.
Like everyone else, my schedule is very busy, but working out is an essential part of who I am and how I show up for my clients.
If I'm really pressed for time, I'll do an incline walk on the treadmill for 30-60 minutes while I catch up on messages and emails, and plan content for my pages. That way I'm being doubly productive!
🏆 How are you doing today and what does the future look like?
I'm doing really well today. My training routine and mindset around fitness and food has never been in a better place – I've recovered from emotional eating and overexercising in the past, and it feels so good to be at a balanced, healthy place now.
Training is actually not my top priority right now – my business is my main focus, and of course classes for my master's program. My healthy lifestyle is what allows me to go do everything I want in my life with freedom and energy – things like traveling, building my business, donating time and money, getting my Master's, etc.
Because I spend my school days and work days deep in nutrition and wellness, in my free time I want to focus on something completely different to give myself space to mentally breathe.
🤕 How do you recover, rest and handle injuries?
---
I'm focused on safety and good posture during exercise.
---
As mentioned earlier, I take a very sustainable approach to nutrition and fitness. No crash diets, no crazy workouts if you aren't in shape to do them, and so on. This approach is to make sure my clients (and myself) can maintain their healthy lifestyle for life, not just for a couple months – but also to prevent injury.
I've known so many people who let their ego get ahead of them and think they can dive into a strict weight lifting routine after not exercising for years, and get injured as a result. Especially as a group fitness instructor, I'm focused on safety and good posture during exercise.
Cross-training is crucial for preventing injury and recovering as well, which is why I try to incorporate different training styles (weightlifting, cardio, walking, yoga, spin, etc) into my routine. Sleep is essential for recovery and general well-being, and I aim for seven to nine hours each night.
When I travel, I get lots of activity in through hikes, city walking, or whatever outdoor activities I can find. In Copenhagen where I live I bike everywhere, so even if I haven't worked out that day, I've biked around at least 45 minutes.
I make activity part of my lifestyle, so even if I can't get to a gym, I'm still getting movement in.
🍎 How is your diet and what supplements do you use?
---
I always communicate with the host to make sure they know I'm vegan and ask if there'll be any options for me.
---
I've been vegan nearly six years and follow a whole-foods plant-based diet. I'm very passionate about veganism, and initially went vegan for my health.
I don't track macros or calories, and instead focus on eating 50% nonstarchy veggies, like bell peppers, cucumbers, carrots, broccoli, leeks, and eggplant (high in fiber, vitamins, minerals, and low in calories), including three servings of plant proteins every day, and generally eating 80-90% plant-based.
I've gotten really good at handling social situations as a vegan: I always communicate with the host to make sure they know I'm vegan and ask if there'll be any options for me.
I almost always bring my own food or snacks if I'm meeting up with friends. For eating out, I know that Thai, Mexican, and Indian food are always safe for me.
My advice is to always be friendly and courteous when talking to others about your dietary restrictions – I may be someone's first exposure to veganism, and they may have a lot of (sometimes rude) questions for me.
I try to answer these as politely as I can, because I know a lot of people have misconceptions about vegans and may have no idea what they eat.
I created a cookbook full of simple, easy and delicious vegan recipes that I eat literally every day – you can check it out here.
👍 What has inspired and motivated you?
I take inspiration from so many people! The Rich Roll podcast was huge for me when I first transitioned to a vegan diet, and I love the guests he has on his show.
My favorite music to listen to when I work out is heavy electronic trap music – I save it for when I'm lifting weights to really amp up my motivation.
My favorite meme when it comes to working out is SO cliche, but so good:
"I really regret that workout" – said no one, ever.
I always think of this when I don't want to train and it gets me out the door!
✏️ Advice for other people who want to improve themselves?
If I were new to fitness, I would definitely get a training/weight lifting app like the one I have now (Tone & Sculpt app). I'd recommend taking group fitness classes to learn how to strength train in a supportive environment, especially if you can't afford to work with a personal trainer.
Don't let your ego get ahead of you when lifting weights: You can't compare your level 1 to someone else's level 50. It took me a long time to get over being the only girl in the gym and lifting 10 pounds, but I built up my self-esteem through staying consistent and seeing gains in my strength.
A major pet peeve of mine (and many women) is when guys try to mansplain an exercise to me…if I wanted your help, I would ask for it! Be polite and courteous to your fellow gym-goers.
🤝 Are you taking on clients right now?
I have a rolling system for taking on clients, and usually take on one to two new clients each month, depending on where my clients currently are at and who's finishing up their program.
As a health coach with a 5+ year background in biology, psychology, nutrition, and fitness, I'm very well positioned to help my clients create a realistic plan to achieve their goals.
I take each client's physiology, metabolism, and unique factors (stress, gut health, chronic conditions, mental health, etc) into consideration when creating a plan to reach their goals.
I focus on helping my clients build habits that they can maintain for the rest of their life when we're done working together.
Habits like eating mostly plant-based, meal prepping healthy meals, working out consistently, overcoming emotional eating, adrenal fatigue, or PCOS, trying an elimination diet, building muscle on a vegan diet, and creating a positive mindset.
As an online health coach (and soon to be nutritionist), I take clients from all over the world. You can apply for my private coaching here.
📝 Where can we learn more about you?
You can find more info about me and my blog posts on my website, passionforplantss.com. I'm very active on Instagram @passionforplants, on Facebook @Passion for Plants, and I do weekly live video trainings in my Facebook group, @Plant-Based Like a Pro.
You can schedule a free nutrition consultation with me.
And download my free Plant-Based Grocery List here.