Interview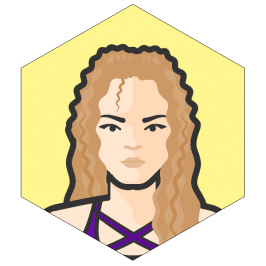 We talked with Joana Varbichkova in June, 2020.
Stats
👋 Hi! Tell us about yourself and your training
Hello, I am Joana, a Pilates Instructor, PT, happy mom of two, based in Glasgow. I am originally from Bulgaria but me and my family moved to the UK eight years ago.
My GREATEST passion is helping moms and busy women to live a fitter, healthier and happier lifestyle.
I've never been a sporty or skinny girl in my school years, although I have never been plump or fat either. I was just a normal girl who didn't like her body and who never felt comfortable in her skin. In that time my weight varied by about 2-3 kilos, and I relied on my youth to stay fit and healthy.
But with my first pregnancy, I gained more than 25 kilos (yes, I was really big)! Since I really hate dieting and restricting calories, my only choice left was exercising. I was very motivated to fit in my old clothes and I've started exercising at home while my baby was taking his afternoon nap.
One month later, the magic happened, I saw the first results of shaping my body and I completely felt in love with the whole process of taking care of myself. The wheel has started spinning. I have started making better food choices, trying different types of exercising, researching and educating myself.
Just a few months later I was looking so much better and fitter than ever before. But that wasn't even the best part – I just felt more alive, strong, energized and happy than ever.
And then I got pregnant again but I have never stopped exercising, reading, researching and educating myself. My second motherhood was so much different experience, because of all knowledge I'd already had and because of my new understanding of healthy existence.
Now eight years later, I'm a successful certified personal trainer and Pilates teacher, whose only passion and purpose is helping, motivating and supporting other women to change their lives for good.
⏱ Describe a typical day of training
Pilates was my first fitness crush and its principles are still the basics and the foundation I structure my training on.
I love mixing Pilates with Fitness Trends and Principles and that's how I created The FITLATES method and my first signature workout program FITLATES start.
I train five days a week, 30-60 min incorporating strength, endurance, flexibility, HIIT, Pilates and Yoga. I have two active rest days a week and I aim for 10,000+ steps a day.
👊 How do you keep going and push harder?
---
The biggest challenge I have faced is accepting my body as it is, accepting that with the pregnancy there's come changes in your body that will stay permanent and that's okay.
---
I set a short-term workout goal. Of course, goals motivate you to work harder, and the best exercise programs include measurable goals to achieve weeks or months down the road.
Sometimes, though, when your motivation is drooping, a goal focusing on what you can complete over the next 30 minutes is what you need. So, I always try to pick something achievable.
The biggest challenge I have faced is accepting my body as it is, accepting that with the pregnancy there's come changes in your body that will stay permanent and that's okay.
Stretch marks, cellulite, loose skin, there's nothing wrong with them and they are part of our journey called motherhood.
🏆 How are you doing today and what does the future look like?
As I mentioned earlier, I love mixing Pilates and Fitness Trends. Currently I am developing new workouts program for my exclusive online studio JV FIT created for busy women by a busy FIT momma.
I want to share with all mamas out there that it is possible to have a work/life balance and to run the house, raise a family and still make time for EXERCISE.
I would not change anything If I could start over again my fit journey, I would just say to myself to learn to listen to my body even more. To know when enough is enough.
🤕 How do you recover, rest and handle injuries?
Stretching and stretching again!
Dynamic stretches before workout and static stretches after.
Active Rest is my favourite form of rest.
I train five days a week followed by two active rest days (walking, hiking, biking with my family).
I sleep six to eight hours a week. (six hours on weekdays, eight hours in the weekend).
I love going to the sauna/steam room once a week. This really helps me to relax and release any tension.
🍎 How is your diet and what supplements do you use?
I am following the Mediterranean diet that is high in vegetables, fruits, legumes, nuts, beans, grains, fish, and healthy fats such as olive oil. It usually includes a low intake of meat and dairy foods.
Of course, I do have food cravings!! I am obsessed with chocolate!!! (and coffee) I allow myself quality chocolate for dessert from time to time.
Once in a while I have a cheat meal and a glass of wine.
For my supplementation, I use multivitamins, zinc, cod liver oil, evening primrose oil, folic acid, collagen, and vitamin D.
👍 What has inspired and motivated you?
My biggest and greatest motivation are my kids and the example I want to give them.
Everyday I remind myself that there are two little people who watch me, want to be like me and I simply can't let them down.
So everyday I show up and do my best.
I am a huge fan of Latino Music and James Blunt, so I usually play some of their playlist while working out.
✏️ Advice for other people who want to improve themselves?
---
---
My advice for people who want to improve themselves is simply this: JUST START. Don't wait for Monday, New Year, or whatever 'magical' event you have been waiting for to get serious about your health. Start TODAY.
You don't need fancy gym clothes, you don't need even gym membership, you need nothing except your motivation and showing up! In your living room, in your pyjamas, you can still DO THE WORK. Start Today. Forget about your excuses.
🤝 Are you taking on clients right now?
No, I am taking clients for 1 to 1 online training. However, I do offer Personalised Meal Plans.
📝 Where can we learn more about you?
I invite you to train with me and my exclusive programs at joanav.fit. This is my online studio with my best and most popular fitness programs for home.
I also share lots of content on my social media profiles:
Instagram: @joanav.fit
YouTube: joanav