Interview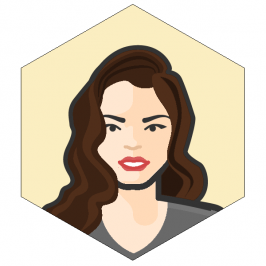 We talked with Francesca Esker in March, 2020.
Stats
👋 Hi! Tell us about yourself and your training
My name is Francesca Esker and I am a 33-year-old single woman from Gresham, Oregon and residing in Burbank CA. I'm a working actress, fashion brand – turning into a non profit, I love singing and I am a motivational coach-encourager.
I have multiple hustles to make the dream work. I'm a working actor who picks up paid gigs in between working at a garage shop, which I'm learning how to restore and fix automobiles, I manage an online business in areas of kitchen/ clothing/ furniture/ and Knick knacks at Poshmark
I help clean houses for those who have disabilities, sick or in the creative field. I also uber-door dash for extra cash.
I aspire to sing more, write more, model more and act (even if I'm already doing it, ha!). I'd like to study film, music and possibly criminal justice.
As for major accomplishments, oh my so much I have to be proud of. I've won four trophies on the Muscle Beach platform as Miss Vintage Swimsuit competition, won a crown as Miss Diversity news.
I've been certified as a film gun handler for TV/film/movies. This year I will compete in Miss Super model & Miss Brazil Virgelia productions.
I've strived to become a better role model everyday.
I started training in 2013/2014. I started training to become stronger mentally, emotionally, and spiritually after an abusive relationship.
My sports include basketball, volley ball, running, swimming.
As for sponsors, I had one for muscle beach, it was DJ Mario. I'm currently learning more on how to get sponsors.
I love how bodybuilding makes me feel so sparkly afterwards. It's definitely a different "high". You feel you can conquer any obstacle of the day brings.
I'm still developing more of a network of positive fit friends. I follow a few strong women who survived violence and became strong trainers/motivators like @shapeupwithgigi @charissemills
⏱ Describe a typical day of training
---
When you feel bored, it's time to mix it up again.
---
My philosophy is always keep the body moving. When you feel bored, it's time to mix it up again. Go dance, lift weights, swim, run, etc. Just keep challenging your body.
Before my recovery, I would work out every other day. The muscles must rest. Now since recovery, I allow a lot of rest and portion food control. I'm on the "It works" program mixed with a clean diet. Everything is about portion control.
One I jet started with was Weight watchers. I learned a lot about food and portions by their unique system.
During off-season, I say REST! Allow yourself to eat full meals. I kinda hate the word "Diet". Your body needs nutrition to build muscle and strength.
As for pre-competition fat loss techniques, I'm still learning about this and what works for my body. I try refrain from alcohol and sugars as much as possible. Lots of protein.
I train at YMCA in the pool during my recovery mode. I also have a membership with CRUNCH. I just added a new dance team called "Infinite Flow". They are changing the world of inclusion in dance and sports. There's a mixture of performers with and without disabilities. It's beautiful!
I train alone. I'm a loner lol. This is my ME-time to sweat whatever happened that day or week. Training helps remind me how strong I am inside.
I really aim for sponsors this year. I just started taking more Collagen and Prolab Amino Gel caps. These two things are perfect to repair injuries.
After training, I would eat my scrambled eggs! I love my breakfast munchies, ha! A good stretch, sit in the sauna, and suit up for a successful day.
My fitness bag contains my new clothes for the day, deodorant spray, maybe a snack just in case I over exerted my energy, and water. I'm a plain Jane these days.
Cardio was my life. I was a runner who turned into cycling who is now swimming laps in the pool. I'm a cardio junkie. 30-60 minutes each time I trained.
Ass & Abs at the gym were my favorite exercises. It was so hard I wanted to die. However, I have to settle it down from my back.
I don't keep a training log. However, I'd like to try! Great suggestion.
👊 How do you keep going and push harder?
I remind myself champions are made in the gym. To win the trophy, one must follow the rules 😉 Ultimately, defeat in my personal life kept me going. I knew if I pushed harder in the gym, I can do so running a business while in the entertainment industry.
I use others as my inspiration. I went from college kid gym to now in a gym filled with industry athletes. I have no choice but to keep learning and improving.
I focus on my wins! How great it will feel to use my personal testimony with a trophy is definitely something to keep going. It's my legacy.
I make time for training because getting fit is important. Your body is your vessel. If neglected, our health can decline. This virus is a good example. The healthy individuals who are sustaining their health is because they invested in their health.
This past year, biggest challenge was I became homeless. I went through a bumpy road to try to keep jobs. I started a resource center/charity storage and not having proper help with it, has been a struggle.
Then faced by a lot of injuries of getting hit by a car and falling all over again, has been a struggle. It's a I fall down nine times, get up 10.
🏆 How are you doing today and what does the future look like?
I'm very focused on my recovery. Not just physically but also mentally, emotionally, and spiritually. Going through a tough time in the last year has definitely separated my glitter identity. Recovering from this dark side to become my bright sunshine light again.
As for training, I can do better! But I'm really doing better listening to what my body is telling me. I'm such a go-getter, I'll work through a cold-period-injury. This can wreck me in the end. I must obey on how my body talks to me.
For the next five years, I want to be more physically fit. I also strive to see my fashion brand launch off just like my entertainment career. I want to balance things and become mentally stronger to be able to give back more!
To achieve these goals, I need a strategic planning and time management! I must have more self care as well!
Beside fitness, I want to start up a successful non profit to help provide transitional to permanent housing!
I also want to grow my business to income of $200 a day and bring that along with me into my entertainment career. I'm really trying to focus on my singing and writing more often.
If I could start over in my fitness journey, I should have stayed more consistent while showing up to every competition!
🤕 How do you recover, rest and handle injuries?
---
Forgiveness has helped me get over negative feelings with accidents and just keep pushing forward.
---
What I'm doing now is resting more and train in the pool! Water is still powerful plus less impact! No excuses ha! I want to focus more on massages too.
There's no way avoiding as I had gone through this. Forgiveness has helped me get over negative feelings with accidents and just keep pushing forward.
I normally sleep seven hours. Now it's 10-12 since I'm in recovery.
As for travel and changes to my schedule, I was all over the place. Now I accept it. I just do my best to plan ahead as much as possible.
Taking supplements works! I'm on thermo fighter supplements and celery drink powder. This is to clean me out and help burn while I'm not working as much.
I love electric massage devices and soon massages! I use the roller cushions as well.
🍎 How is your diet and what supplements do you use?
I'm still cleaning it out more. This quarantine will make it easier! Lol
Paleo with only white meats (white fish, chicken, etc.). I stay away from red meat. I also eat lots of pure fruits and veggies. I stay away from canned/boxed food.
No calories, proteins, carbs counting for me. I do not track at the moment. This may be my next step. During off-season, Pizza! I love it. Subway sandwiches. Pasta!
As for social events, I eat beforehand. I may try appetizer but I do my best to stay in moderation. I have one cheat day a week. I either enjoy gummy snacks or Chinese food from Panda 😀
I do having cravings. I just turn my protein shake into a paste pudding and eat that instead lol. When eat cutting, I should ask Richard. He's the one amazed when I'm eating food. I fast in the morning with a cup of coffee. I work on emails during this time.
I had to cut back coffee because my doctor said on one of my worst days ever that I had high blood pressure. Only 1 cup of coffee, herbal tea all day for my vocal cords and not buying wine for my cupboards help me make wiser decisions.
As for a tracker, only IHealth! I track my steps lol. This helps me get up and move around all day
👍 What has inspired and motivated you?
Every legend experienced some type of trauma but they used that to overcome their circumstances. I like to read inspiration quotes. I'm also a comic book nerd. Honestly, I channel my inner Wonder Woman on rough days.
I look up to other legends who have succeeded in their legacy. Arnold Schwarzenegger, Lou Ferrigno, and one we lost this year Kobe Bryant. All legends who impacted their communities positively. So many! Charisse Mills, Wonder Woman.
I love hip hop when I'm getting it in at the gym!
Best advice is: This too shall pass and trust the process.
✏️ Advice for other people who want to improve themselves?
Focus on educating yourself on beneficial food is to your body! Food is medicine if used wisely. Everything is about posture, technique, and patience. Give back as much as you can! The world needs strong soldiers in the field.
Compare your own journey to others. Be inspired but every body looks different depending on what they are training for exactly.
Patience, meditation, understanding, negotiating, and give back! Always be humble.
🤝 Are you taking on clients right now?
I am not but if I am, I want to start my platform on the net. The net is definitely growing into something very positive for small businesses.
Common question that people throw at me is: How much weight will I lose every week. The body can transform vs showing up on the scale.
📝 Where can we learn more about you?
Shop at: posh.mk/qbwS8uxHe4
Links to social media profiles:
Instagram @official_francesca_
Facebook @francesca esker
Instagram is my strongest platform but I anticipate to launch a stronger YouTube.