Interview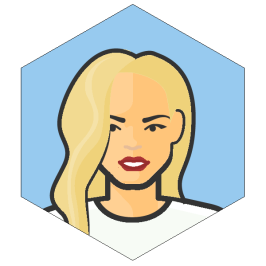 We talked with Fanny Müller in May, 2020.
Stats
Fanny Müllers Stats When We Talked with Her 💪

👋 Hi! Tell us about yourself and your training
I'm Fanny Müller, 31 years old. I'm based in Hungary but I travel worldwide full time.
I'm a traveling dancer-model and I do photo shoots around the world. My favorite style is dance and acrobatics photography.
I work in ballet, acrobatics, aerial acrobatics and pole dance shootings too. I'm open to do shootings from fashion to art nude.
⏱ Describe a typical day of training
It's quite difficult because there are no 2 similar days in my life. If I stay in the same place for a long time, I try to book a hotel or Airbnb with a gym in the building.
Sometimes it's not possible, in this case I use the furniture and walls in my room and I do stretching and own weight training. I always bring along some ribbons and ballet shoes so I can train with them.
Sometimes I go out to train – maybe I look for a functional gym.
If I'm at home I train almost every day. I try to change my daily program.
Normally, I practice aerial acrobatics and pole dancing with a trainer in a special and high studio, but I also have a pole, silks and a hoop at home. So I can practice safe and small poses and movements at home too.
Warming up is always very important to me because I need it for flexibility. So when I have a photo shoot, usually I arrive a bit earlier because I have to warm up my full body.
👊 How do you keep going and push harder?
---
My motivations were always to learn some new tricks
---
The hardest thing is making time for my workouts when I'm on the road. I think I learned to use the things around me for my training very well.
I believe motivation is the most important part. I could never train for a nice body shape or for bigger muscles. It was always just a positive but incidental consequence.
My motivations were always to learn some new tricks, to be more stabile and find my balance in different poses easier, to be more acrobatic and more flexible.
It's a bit bad that I don't have enough time to create choreographies on the pole or aerial hoop. I need to practice and train for the poses because I can use them on the photo shoots so that's the most important.
🏆 How are you doing today and what does the future look like?
I love my job and my life. I love to travel. So if it'll be possible, I would like to go back to my main job. Of course I can't be a model for a long time so I have to find other goals in my life.
I'm an artist, that is what makes me happy. So I have to find a similarly creative job.
Aerial acrobatics and pole dancing are my new passion. If I'll have more time, I would like to compete and test my skills in competitions.
I'm planning to go back to a sports or acrobatics school and I would like to teach these sports later.
🤕 How do you recover, rest and handle injuries?
In this period, my life and also my training routine changed so much! I had an accident. I was practicing a jump in the nature and I tore my ACL 4 weeks ago.
On the one hand, it's a very bad and boring situation because I'm not able to do my normal workouts. On the another hand, I have to be grateful, because I found a very professional physiotherapist.
She realized that I have to work with my deep muscles around my joints because they are too loose and it involves a risk of accidents.
So my project in the near future is to work and fix my knee, and I have to do very specific therapy for it. It's very boring and I don't find the fun in this job, but it's really important.
Slowly I'm trying to do my normal workout, but I can't do everything yet because of my injury. I'm trying to be positive and not to be impatient.
🍎 How is your diet and what supplements do you use?
Diets are also very difficult for a traveler. Sometimes I arrive too early or late to the station/airport/hotel and it's not possible to choose, because everything is closed.
But normally I try to eat healthy food. Usually I avoid sugar and carbohydrates. I don't eat bakery and I replaced normal milk with almond and coconut milk.
If it's possible I eat 5 times per day and there are lots of fruits, vegetables and proteins in my diet. But I'm not a saint, sometimes I crave for chocolate or sweets and sometimes I don't say no 🙂
I also take vitamins. Multivitamin, joint support and at times I do a vitamin cure too.
👍 What has inspired and motivated you?
---
If I have a bad day and I feel I was not good, I try to think of my better days…
---
I have more galleries and I collect photos of the movements which I would like to learn or which just amaze me. I also watch performances and choreographies.
I have to learn to be more patient and my trainers know it so they try to keep me calm. Once I did my pole dance training in the pole studio and a very professional pole dancer praised me while I was striking a quite difficult pose.
This confirmation gave me tremendous strength because it wasn't told by a layman, but a person who is so great at her sport.
If I have a bad day and I feel I was not good, I try to think of my better days… you can't always be the best.
✏️ Advice for other people who want to improve themselves?
There are so many videos, advice, tricks on YouTube. Everyone can find ideas for the sport that he/she does or wants to do.
But everyone is different so we have to find the best sport and workout for us. We have to know our strength and weakness and try more things out.
When I started to deal with sports, I tested so many gyms, courses, trainers to find what is the best and most interesting to me.
You have to know yourself and your needs. Then you'll be able to find your way.
🤝 Are you taking on clients right now?
No, not yet. I have just some friends who ask for my advice. I would like to complete a school or course and maybe once I'll be a trainer. But I think I have to learn a lot for that.
📝 Where can we learn more about you?
My main job is modeling, and I try to share my best pictures on my website mullerfanny.com
On my Instagram @fannymuller_model there are many different contents. Of course I upload many model pictures but I also create videos of my trainings/travels and also of my private life.