Interview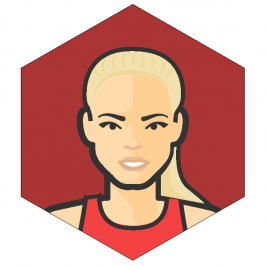 We talked with Chiara Basile in March, 2020.
Stats
👋 Hi! Tell us about yourself and your training
Hello to you who are reading my interview! My name is Chiara, I am an Italian and I live in Milan, Italy. Currently I am engaged in a very strong story where we share the same passion: fitness. I am a fitness instructor and personal trainer.
As a child and when I was a teenager, I was the classic big girl who hated any type of sport, every year I changed one, I did it for a few months and then I gave up and gave up everything.
Towards the adolescent age, I had my first contact with the gym, unfortunately, it made a bad impression on me. I went there for three months and immediately gave up, promising myself never to enter again, it was too boring for me. During the growth, I lost a few kg but I was still the girl with a few extra kg, watched by no one.
At the age of 18, I was diagnosed with a malignant tumor: Hodgkin lymphoma. From here my whole life has changed. I discovered a new me, a new me with a lot of determination, a new me with a lot of determination.
At that time, due to the drugs and chemotherapy, I gained another 5 kg, but at that time I didn't care. After a year I recovered but I didn't like myself physically. From here everything was born.
I followed a food plan and enrolled in the gym.
From here everything was born. From here my passion was born, from here the new me was born.
To date I have transformed my passion, into my job, into my life.
I studied, I continue to study and today I can say with great pleasure that I am a fitness instructor and personal trainer.
⏱ Describe a typical day of training
---
I love to train my upper body unlike other girls.
---
I plan training every week. I train always and everywhere. For me as well as being a duty to feel good and also a pleasure, so yes, I also train during the holidays.
Being a fitness instructor, I also work in the training room for zumba, toning, total body, cardio so I use these workouts as a cardio-resistance part in my weekly workouts. The rest of the days I dedicate myself to weight training.
I love the weight room. I love doing anaerobic training. I train four times a week. My training is always divided into periods of hypertrophy and periods of strength. Sometimes it is divided into multi-joint workouts, sometimes less often in mono-joint ones to give different stimuli to the body.
I always train alone. That's my time. I can concentrate well on myself and not get distracted by other people.
I love to train my upper body unlike other girls.
My favorite exercises are Slow Forward, Romanian lunges and deadlifts.
Usually I train in the morning, I don't do pre and post workout integrations since before I go I would have breakfast and as soon as I get back, my nice lunch is waiting for me.
I don't really like cardio, but if I had to choose cardio training mode I really like the circuit method, like Tabata.
👊 How do you keep going and push harder?
My physique is my motivation.
I look at photos in the past and look at myself now.
This is what gives me the strength to train.
I am human, even I happen to get up that I don't want to train but I tell to myself: "You have to go to the gym!"
I eat my pancake and I go to the gym once I realize how much my body actually needs it, I download all my thoughts and after the workout I am happier and grittier than before.
When you find a negative reason, always ask yourself: "But if I don't train, will this problem be solved?" It takes time, patience and perseverance — a lot of it!
🏆 How are you doing today and what does the future look like?
To date I am creating everything.
I go on with all possible determination.
I want to help all the people who want to feel good about themselves, I went through it and health must be in first place.
When health is not well, you realize that everything else around you is zero.
I also opened online coaching to help people away from me through Instagram with my advice and help through posts and stories.
In my future there are two dreams: Having a family and opening a gym possibly all in a nice place by the sea, like in Spain for example.
🤕 How do you recover, rest and handle injuries?
Each start of the training involves a warm-up, which is general of the whole body or if I go to train a specific part of the body, I'd dedicate warm-up to that muscular part.
Always keep recovery time.
One of the most important things is the weight used. Make sure you perform each type of exercise optimally before gaining weight so as not to risk injury.
I try to rest eight hours a day, I respect them roughly.
If you know that you wake up early in the morning, go to sleep earlier the night before: muscles need rest.
Also, I check my blood test values (Vitamins, iron, magnesium, etc.) and if ever I have any deficiencies, I help myself by getting some supplements.
I always train where I am. Even if I'm on vacation, I wait to get there and see if they have equipment available or once I always create circuits all over my body.
🍎 How is your diet and what supplements do you use?
---
As a true Italian I love to eat.
---
I don't have a specific diet, I do a fairly flexible diet, life is one. I always keep track of kcal and macros every day. The values depend on my goal in that period.
I do not take anything at the level of supplements because I can manage everything through food.
As a true Italian I love to eat. I love pizza, ice cream, pasta and I am able to make both worlds coincide.
I am quite rigid and strict with myself during the week, so on Saturday evening if I have some particular cravings for pizza or I know I have to go out for dinner I go there quietly, maybe during the day I keep the kcal under control to stay lower and enjoy more dinner.
I love coffee. I learned to drink it bitter so I can drink as many as I want. I consume alcohol in really minimal quantities, I never drink it at dinner, it only happens on my birthday or some party in particular if nothing, water!
When I am at dinner, I always regulate myself on eating as clean as possible, therefore no fried, and with portions I regulate by eye … and then maybe why not if a dessert escapes ok, life is only one!
👍 What has inspired and motivated you?
My biggest motivation is myself because it's my story.
As for social influencers, I love and draw inspiration from Michelle Lewis.
During my training, I don't usually listen to music because I like to concentrate and not have distractions but if I had to choose, it would be reggaeton.
Well, the best advice that I have received and that has brought me where I am now was "BELIEVE IN YOURSELF" is what I am doing.
✏️ Advice for other people who want to improve themselves?
There are no excuses.
Always put first. Give yourself time, be patient and constant and put a lot of heart and effort into it.
The first step has started, as we have all done.
Follow a personalized workout from any personal trainer (Ask me: D) that makes sense, don't train randomly, don't call anyone in the gym, everybody is different with different needs.
I don't like seeing those people who lift a lot of kilograms and don't do one in the execution of the movement. I don't like people who scream, who hit the weights, and those who always look in the mirror.
🤝 Are you taking on clients right now?
Yes, I recently started here in a gym in Milan and also through social media. I want to help as many people as possible and create my community where everyone helps and compares for any problem.
The thing that everyone always tells me is: I would like to have your constancy, I envy you, but how do you do it, etc. Girls, and as hard as I do I can do it too, it all starts from your brain!
When it comes to results, it takes months. Surely a few weeks' course doesn't make sense, it takes a few months. How many? I do not know! Depends on the condition of your departure is your point of arrival, and above all the responses of your body!
📝 Where can we learn more about you?
Instagram: @Claire.jns_trainer
Facebook: Chiara Basile