Interview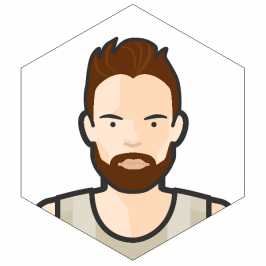 We talked with Ben Andrews in June, 2020.
Stats
Ben Andrews' Stats When We Talked with Him 💪

👋 Hi! Tell us about yourself and your training
Hello, My name is Ben Andrews, I am a Personal Trainer in South West London specialising in Correctional Exercise. My training focuses on correct technique and muscle activation, a common form of this exercise is Pilates.
The main aim is to achieve the ideal range of motion in your joints without discomfort, making sure that your muscles are strong and flexible enough to create an injury proof body. I love to do this form of training myself as well as dealing with clients who either do it for fitness or injury rehabilitation.
When I'm not doing Pilates I am either running, lifting weights, playing the guitar or walking my miniature sausage Dog named Bob.
⏱ Describe a typical day of training
---
My favourite Pilates exercises are the side leg series because they challenge vital muscles that support your lower back and stabilise your knees.
---
My training has changed over the years. As I am now approaching 30, exercise for me is about longevity, my ego has got smaller (a little) and I lift less weight.
Pilates is something I do daily, partly because I teach it online every day, but also because It makes me feel ready for the rest of the day and I know It will help reduce my risk of injury or dull aches for the future. I drum in that it is good for injury proofing bodies, but do not think this form of exercise does not get you fit!
My favourite Pilates exercises are the side leg series because they challenge vital muscles that support your lower back and stabilise your knees.
My other favourite exercise is the Plank because it challenges full body stability! I have 2, 1-hour weightlifting sessions a week, focusing on functional movements such as squats, deadlifts and pull ups to help strengthen my muscles and prevent potential diseases such as osteoporosis, and finally I run 3-4 times a week for about an hour to strengthen my heart, so quite a scientific approach. I do not track my distance often.
My belief is to keep moving and enjoying life rather than track everything, because I am not an Olympic athlete. It's the same with food, just eat well and less to lose weight, don't overcomplicate it If you can avoid it.
👊 How do you keep going and push harder?
My motivation is to feel good. Looking good physically will come in time. I do not push myself to exhaustion every day, because I will feel sluggish and unmotivated, again, an Olympic athlete does not do that either.
On a day that I know I have a tough workout I should have the motivation and physical capability to push on through it. My core strength is high through Pilates and my heart is strong because of running, so I'm ready. I'm a big advocate for staying hydrated. Everyone should know how good it feels drinking 2 litres of water daily.
The biggest challenge I've been faced with is recovering from an ACL ligament tear. Getting back to full fitness took sheer determination, I learnt a lot about my mentality when faced with setbacks and down days, I had to stay motivated and keep on pushing.
🏆 How are you doing today and what does the future look like?
Today, I feel great, As I write this, I am on a rest day, allowing my body to prepare for a long run tomorrow post Pilates! With the situation right now with Covid-19, It seemed the future was looking bleak, however, Online seems to be the future for the fitness industry, and It is successful so far, my motivation is high to continue online work when this situation has recovered.
In the next 5 years, my goal is to run my own Pilates studio, helping others get fit and injury proof with my own brand. I also am going down the route of Mobility training, so that is the next course I aim to do.
My goal is to educate people on correct and safe movement before they put themselves at risk of injury, this is something I would have focused on years ago at the start of my fitness journey If I had the knowledge at the time!
🤕 How do you recover, rest and handle injuries?
---
Injuries should be handled with appropriate rest, then working to get core strength increased and stability around the joints improved, this means the answer is Pilates!
---
This is one reason I got into Pilates. A typical Football player who twisted his knee and torn an ACL ligament. I was a player with no knowledge of Pilates, stretching, or recovery. A small jog to warm up and down was it. This caused mobility issues, so when I damaged my knee it got worse and worse.
A weak knee, tight hips, shoulder problems, and terrible posture, for years! This gave me dull aches that I only managed to get rid of by discovering correctional movement and Pilates.
Recovery post workouts or sports are so vital. My solution: Stretches post workout and If I can brave it, a cold bath for 10 minutes. Trust me, you will feel less sore the next day.
Injuries should be handled with appropriate rest, then working to get core strength increased and stability around the joints improved, this means the answer is Pilates!
🍎 How is your diet and what supplements do you use?
My belief is to not over complicate things. I am not a bodybuilder, just someone who wants to run fast, lift heavy stuff and feel good about it. If you want to build muscle, make sure you work hard in the gym at least four times a week and eat a high intake of calories, don't do one or the other, you need both.
My personal experience with supplements did not help me improve much. However, try protein and creatine, you do not need anything else apart from good food, do not waste your money on all supplements out there, you could spend it on a nice meal out or a holiday instead.
Again, ask yourself, are you an athlete, do you need to dedicate your life to tracking how much mercury you have in your diet? Or do you just want to look half decent naked to attract a mate?
My best advice for running though, is to eat some simple carbohydrates pre run, like a banana, best advice you will get all week.
Like everyone I have good and bad days when it comes to nutrition and dealing with cravings. If I have a bad day eating, I will make up for it the next day.
I try to handle cravings with healthier options, for example, get my simple carbohydrates from fruits and yoghurt rather than chocolate. It's exactly the same with alcohol, don't beat yourself up if you over indulge, just limit your intake the next day.
👍 What has inspired and motivated you?
"As one door shuts another one opens remember!! There are better things out there for you but cannot happen until that door is FINALLY shut. Not at all easy and certainly not fair but necessary."
This is a quote from someone ESPECIALLY important in my life. What it says to me is you must put the effort in, in life and no matter if you succeed or fail, something better will come out of it. So never give up.
Also the book, "Homo Sapiens A Brief History of Humankind" by Yuval Noah Harari gave me a different perspective of life, making me realise we are just humans who should be THANKFUL for being on this Earth. So enjoy the process of having a healthy lifestyle, rather than wanting a six-pack tomorrow!
✏️ Advice for other people who want to improve themselves?
Set small, achievable goals. Get organized, make a list of things to do and make sure you complete them. Achieving something small like tidying your bedroom will make you feel good so your mindset will change when exercising.
Once you can consistently achieve your small set goals, start looking further into bigger goals. An obvious example is "I want to run a marathon" so you set a goal of running 5 miles a week.
Every month add an extra 2-3 miles a week, eventually working towards the main goal of a marathon. Something worth having will take time to get!
🤝 Are you taking on clients right now?
Yes. I am always ready to help someone start their fitness journey. Online or in person (post Covid-19). My specialty is correctional movement and Pilates; I will be able to help you move and feel better.
Whether your goal is to lift weights and get muscle definition or to recover from an injury, my training techniques are the foundations you need to stay fit and healthy.
I am a highly experienced trainer to all clientele in South West London and highly regarded in my field of correctional movement. Clients see me for the long run because they understand it is a lifestyle not a quick fix.
With me, you will learn to enjoy exercise and I believe that is what separates me from the rest, enjoying the process and seeing the results, but most importantly FEELING the results.
📝 Where can we learn more about you?
My website is benandrewspt.com Instagram @benandrewspt where I post regular training tips and promote my classes/one to one sessions.