Interview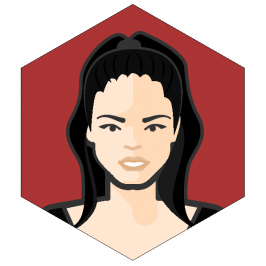 We talked with Ashlee Carignan in February, 2020.
Stats
👋 Hi! Tell us about yourself and your training
Hi everyone, I'm Ashlee Carignan from Pilates With Ashlee, aka~ PWA! Big thanks to Bulk Hackers for believing in and featuring me on this fantastic site where you can literally read about ALL types of trainers and their remarkable stories.
My story starts 15 years ago when I first started Pilates (as a student) when a friend coerced me into it. As most beginner Pilates students, the apparatuses used are extremely intimidating, needless to say, I had no idea what I was in store for, let alone know It was going to become my passion, my business, and ultimately my brand!
I come from an athletic background, playing competitive soccer throughout high school into college. I was always dedicated to an active lifestyle — in & out of gyms and fitness classes.
After taking Pilates classes for about two years, I quickly became addicted to the practice & philosophies of Joseph Pilates and then became excited by the idea of building a career centered around these teachings–Teaching people the complete coordination between the body, mind, and spirit, that started my Pilates career!
13 years ago, I completed an intense certification program (The Ivan Dahl Method) through an apprenticeship and was well on my way to building a clientele. My passion was to always teach one-on-one sessions, my heart wasn't in teaching big group classes in studios, but we all must start somewhere, right?
After a series of residencies at some of LA's most popular studios, I was finally ready to open my own chic-boutique studio, "Pilates with Ashlee," branded as PWA. I opened three years ago in Beverlywood, Los Angeles and once I expanded out of one-on-ones to a small three-reformer studio, I decided to go full throttle and brand my studio and myself.
From my own unique style of teaching, to my offbeat look and style, I feel I truly stand out in more ways than one! Simultaneously, I remain one of the most influential leaders within my community and in the Instagram community with 64.5k followers, @pilateswithashlee.
With the continued growth of my company, I've been lucky enough to establish some amazing long-term relationships with other like-minded fitness & wellness brands. I believe in creating these long-term working relationships because they are ALWAYS mutually beneficial. I always put 110% into all my partnerships!
In the end we all have the same goals: Making it big, getting our names out, better business practices, whatever the reasoning may be, it always helps to make good lasting relationships and have people in your corner supporting you! If I can help a brand achieve their vision by teaming up together, that's honestly more valuable.
I've been fortunate enough to of worked with, as well as being sponsored by, some of the BEST Brands/Companies/People in the market today:
ALO Yoga, FabFitFun, Ellie Activewear, YUNI Beauty, OSEA Malibu, Glyder, Tucketts Socks, Terez, LaLaLife Box, Running Bare, Vie Active, Yoga Box Club, HUM Nutrition, Balanced Body (I'm a regular contributing blogger), Vanderpump Dogs & My Community's "Holy Grail," Pilates Style Magazine!
In addition to past Partnership/Sponsorships, I currently Ambassador for these AMAZING brands: Fablectics, FabFitFun, YUNI Beauty, ProSourceFit, Yoga Club Box, Tucketts Socks, Balanced Body & Glyder Apparel.
Accomplishments/achievements:
Recognized as the #1 Pilates Instructor in Los Angeles by ClassPass for 2017.
Featured in US Weekly's Celeb Sightings section for working with top Influencer Caitlyn Chase, who later wrote a fabulous Blog post about PWA on Caviar & Cashmere's Blog.
Featured in & wrote PWA's interview in The Huffington Post's ongoing series, "5 Thing I wish I knew before opening my Startup"
Regular Contributor to Balanced Body's Blog—Most Recent Article, "The Top 3 Free Online Tools Every Business Entrepreneur Should Have," which are some tools taken out of my newly launched Instructor/Entrepreneurial Workshop: FLOW
Pilates Style Magazine wrote an article on a series of Hashtags I created on Instagram, which digitally categorized Pilates exercises, called "The Encyclopedia #foreveryone Index."
PWA's teaching method has also been featured in Voyage LA, LA Weekly (twice), Focus Magazine & their show Empowerista, CBS's hit show, "This is LA!", & now live on FabFitFun TV~ 8 Instructional Workout segments! View Videos
** For more press on Ashlee & PWA, head to: pilateswithashlee.net/fun-stuff/
⏱ Describe a typical day of training
A typical day for Ashlee is CRAZY! If you're an entrepreneur like me, then you know your days will never start and end the way you had planned. My best advice is to roll with the punches and makes a lot of lists!!
My Typical Day:
Wake up 8/9 a.m. get ready to train my first block of clients—each session last 50 mins. and it's completely tailored to my clients' needs. I also created what I call the "Buddy System," this is how I group my classes. All classes are grouped by skill level ensuring the client the best possible workout at the most affordable rate. I require all new clients to take at least one private at a reduced rate and then I place them in the appropriate class. Since I've enacted this system, I've never had one complaint or issue. Clients actually prefer this over big group classes that are mixed level.
My first teaching block usually ends around 1-2:30. I take a break until my second shift starts usually around 4-5:30. In between, I'm racing against time to manage my emails, connect with brands, create SM content, connect with new clients, scheduling conflicts, marketing my brand, updating my website, creating marketing tools for my clients (signage, monthly newsletters, etc.) writing updated press kits/releases, and most recently I've been working on my last draft of my first workshop that I'll hopefully be submitting to the PMA in the next few weeks.
Go back to teaching 4-5:30 until 8/8:30—after work I follow up and/or finish anything I didn't get to during my break. I usually get to sleep around 3 a.m., WAKE & REPEAT.
I'm lucky if I get a workout in, I'm sure most trainers can agree with me—when you're training eight or more clients a day, the last thing you want to do is workout. I'm just like every average person; I also need a trainer!
One of my 2020 resolutions is to hire a Pilates instructor to come train me twice/week, hopefully starting next month. 😉
There are times I'll do multiple sets/exercises with my more advanced students, but NEVER a full class. I think it's completely unprofessional. Keep that in mind when you're thinking about client retention.
👊 How do you keep going and push harder?
---
---
How do I keep going? That's a great question…
I'm going to answer this in regards to my day-to-day duties to keep my business and brand thriving. Let's put it this way: I have my good days and m bad days, more good than bad, but I do wonder why am I working so hard and what for? Of course, I have goals and I'm constantly meeting & revising them. I meet a goal; I go to the next and so on.
When my motivation or inspiration is low, I just think of all the amazing things I have already accomplished, that I'm still young, and there's got to be more opportunities on the way. I refuse to believe this is as far as I'll ever get!
I truly believe, if you work hard enough and want something so bad it's against the laws of nature for it not to unfold itself. I just have to keep going until that ONE break comes my way and all I can do is hope that it will in time. Never stop believing!
My biggest challenge I'm currently facing is getting visibility on my workshop. I wrote this incredible, one of kind workshop that spills my "secrets to success" in running/operating a business. I cover everything from gaining & retaining clientele to a full social media breakdown and how it can enhance your business (depending on your goals), SEO, branding, spotting injuries from sight, and so much more!
To learn about my workshop, please click: Behind the Hustle: Business Tools for Fitness Professionals.
🏆 How are you doing today and what does the future look like?
PWA is thriving in terms of clients and its branding is coming along! In the next five years, I'd love for my first workshop to be a success and eventually made into an online course/E-Book and I'd also love to start writing my own Pilates Manual: "The PWA Method," teaching aspiring instructors my effective way of training.
There's a reason why I've been sought out by thousands of people and that's because my method works! I can say whole heartedly and with full confidence. If you train with me at least 2/xs a week, you will 100% see results within a month. That's a bold statement to make but that's how much I believe in myself and the training I have developed over the last 13 years.
I'd love to tell you what it entails, but unfortunately it hasn't been copyrighted yet~ so you'll have to either come see me or wait until the manual comes out. 😉
🤕 How do you recover, rest and handle injuries?
---
Foam rollers can also be used as props for certain Pilates exercises you can do at home/anywhere.
---
Doesn't apply to me—thankfully I haven't had a major injury! The beauty of Pilates. In the rare occasions, I have lower back soreness I will use a Myofascial foam roller. I definitely put a HIGH emphasis on using/teaching my clients how to properly use a foam roller! Everyone has one but never uses it because they don't know how.
Foam rollers can also be used as props for certain Pilates exercises you can do at home/anywhere. If you're interested in learning more about how to use your roller, head to FabFitFun's TV page and you can see me host eight segments of workouts!
🍎 How is your diet and what supplements do you use?
I'm a vegetarian and a finicky eater! I 100% don't eat enough throughout the day, which is not the healthiest approach to any diet. However, I'm working on implementing a new system either by juicing through the day—protein meal at night OR a meal delivery service.
If you're also seeking dietary guidance, I highly recommend seeing a nutritionist who can get you on a proper plan.
👍 What has inspired and motivated you?
Tons of things inspire me daily, from the people I follow & who follow me on Instagram, to the music I blast in my studio when I'm playing around on the reformer figuring out new exercises. If I ever need advice or a little pick me up, I have mentors I call—that's the best inspiration right there!
Having people you can count on and who are always willing to support you no matter what, is a blessing. Some of my mentors include: Erika Quest, Lisa Hubbard, Lori Manse, Jasmine Adele, Doug Riccio, all who can be found on IG (and you should DEFINITELY follow them!)
In terms of business/my Pilates practice, I always like to at least take two to three workshops/year to learn new Pilates techniques, etc. This practice is constantly evolving, which is one of the main reasons I love it so much, so I like to stay on top of my discipline as much as possible.
In return, this inspires me to keep adding new and improved or simply different ways to do the same exercise in the PWA vault.
✏️ Advice for other people who want to improve themselves?
---
It's never too late to start anything, especially when it comes to something that utterly fulfills you.
---
This has TWO answers: If you're an Instructor/Potential Instructor OR a Client.
For Potential Instructors: If you're looking to pursue whatever discipline you're most passionate about, first of all, I say GO FOR IT! It's never too late to start anything, especially when it comes to something that utterly fulfills you.

Secondly, I suggest being a student of that discipline for at least a year (two ideal). Research as much as you can: Find out what the training is like, where do you go to get certified, cost, timeline, can you make a living from doing this? What other areas can you expand into?

Current Instructors: There are so many resources available to us now to help improve ourselves and our practice: Becoming more knowledgeable, adding additional services to your clients, expanding into teacher training, etc.

Be the BEST possible instructor you can be and challenge your boundaries! Join Facebook groups, go take workshops- exercise or business based, watch as many videos from YouTube or Pilates Anytime from your favorited Instructors, subscribe to some fitness blogs! All these resources will not only ultimately improve yourself but also your practice~ Two birds, one stone!

Clients: Before I became an instructor, I thought I had it all right– my diet and workouts. I'd go to the gym 4xs/wk, do 1,000 criss-crosses and think to myself, why haven't I lost weight & have a 6-pack!??

Well, I'll tell you why…..I WASN'T DOING ANY OF THE EXERCISES CORRECTLY! Form is everything, Pilates taught me that. In order to improve yourself, you need to improve how you're working out and course what you're putting into your body.

I always recommend to my beginner clients to take at least a 10-pack of Private lessons to understand and retain the fundamentals of Pilates, once you've got them down you can take as many classes as you want.

But why start ANY workout when you have no idea what it is or what muscles you're supposed to be activating/using? Nine times out of 10 this will only result in injury, so help yourself and if you can afford to take even a couple one-on-one sessions, your body will thank you!
🤝 Are you taking on clients right now?
Absolutely! We will always take on new clients because their well-being is the most important and gratifying part of my job. PWA only trains at our studio OR on a situational basis we will travel to clients for house calls.
As I previously mentioned, I always recommend taking Pilates 2xs/week to see the sufficient results you want, however the more you can come, obviously the better. At one point as a student, I was taking Pilates classes 5xs/week and I was in the best shape I've ever been in!
I LOVE working with every unique client of mine to help them see and achieve their personal goals. Meeting new people and connecting with them on a weekly basis is why I love my job. Waking up knowing that I can impact someone's life, or just change their attitude around for just that day, that's the ultimate feeling~ PRICELESS!
What sets me apart from most trainers in LA is that this is my primary and only job, I don't teach on the side for extra cash. I'm in the business of helping people achieve results within their goals. I give 110% to all my clients and because PWA is a chic-boutique, we provide the highest level of customer service.
📝 Where can we learn more about you?
My website: pilateswithashlee.net
Facebook: @TEAMPWA
My business: pilateswithashlee-pwa.business.site
Instagram: @pilateswithashlee