Interview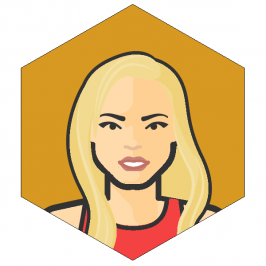 We talked with Jody Sokol in May, 2020.
Stats
Jody Sokols Stats When We Talked with Her 💪

👋 Hi! Tell us about yourself and your training
Hi! My name is Jody Sokol and I am 28 years old. I'm from Bensalem Pennsylvania and I am currently living in Conshohocken, Pennsylvania with my boyfriend.
I am a Personal Trainer at Lifetime Fitness and I also have my own clients that I train online and in person as well. With the pandemic of Covid happening, I am no longer working at Lifetime so I am training a few clients online right now.
I also have my own Protein Ball Business that I started a few months ago with my sister. So getting that business up and running is my main priority right now. The name of our company is called Simply Strong Eats and our website will be up and running soon!
I have some major accomplishments in my life that I am pretty proud of!
I was inducted into my highschool's hall of fame in 2018 for women's soccer! I played Division 1 soccer all four years at Rider University in New Jersey.
I also played professionally overseas in Trinidad and Tobago which was nothing short of amazing! That was definitely one of the best experiences I have ever had.
I have been training since I was in highschool. I always loved being competitive and always played sports my whole life so it was just something that I really enjoyed doing.
I got more into it in college when I played soccer and it just grew more and more from there. I was always the person on the team who took lifting very seriously and always wanted to be better than yesterday.
I had very competitive friends in highschool and we would always challenge each other to do better and I think that's what drove me to do so well in the weight room in college and post college. I never lost that drive and competitive edge.
After college is when I really started taking lifting and training seriously and I knew that I could help people with their fitness goals as well so that's exactly why I became a personal trainer.
There is nothing more fulfilling than helping people change their lives in a positive way.
I would say my favorite part about lifting would have to be being able to change/mold your body into whatever shape you want to!
---
There is nothing that hard work and one decision can't do for you.
---
Our bodies are just amazing in every way and the fact that we get to determine how we look is just incredible. There is nothing that hard work and one decision can't do for you.
I do have some other hobbies besides lifting. I love playing other sports; Basketball, baseball, football etc. I grew up playing basketball as well, but soccer was always my first and only love.
I would say my hobbies are hiking, especially with my new puppy Kali. She has been my main focus the past few months.
My boyfriend and I got her from a friend 3 months ago and it has been a crazy adventure ever since. She is a 10 month old Petite Pitbull. She is everything my boyfriend and I could have asked for and definitely keeps us on our toes.
⏱ Describe a typical day of training
---
I have a very no-quit, lets go, never satisfied type of mentality when it comes to sports and lifting.
---
My typical day of training (when gyms were open) would consist of a warmup on the treadmill for 10 minutes. I would then do my lift which would consist of about 45 minutes to an hour and a half of strength training.
My split is usually; Back/Shoulders, Chest/triceps/biceps, and a full day of Legs.
I was recently getting into CrossFit workouts which really switched things up for me. I have friends that love doing CrossFit workouts and it really opens up a whole new world of lifting so I was excited to try it.
I haven't fully converted into doing CrossFit full time but I definitely enjoy doing a mix of CrossFit and straight lifting.
I workout about 5 days a week and like to throw some HIIT workouts in there a few days out of the week.
Obviously everything has changed with the gyms and workouts since the Covid has happened but I have adjusted and I don't plan on using that as an excuse as to why I lost muscle or why I am not hitting my fitness goals.
Since the Covid, my workouts have completely changed. I am running a lot more now, considering I live right next to a trail. I made a commitment to myself that I would run at least one mile a day every day.
So far I have run every single day for a month straight which is awesome.
Later in the day I usually do an upper body or lower body workout with the limited equipment i have and I also mix in some body weight exercises as well.
I've been using some dumbbells, kettlebells and bands. It's definitely not the same as the gym and I am for sure missing the gym a lot but I am doing the best I can with what I have.
I currently am not following a program or specific diet in regards to training, I am just keeping it simple and balancing what I eat.
In the morning I have a protein shake and water. My shake consists of unsweetened vanilla almond milk, chocolate protein powder, cinnamon, spirulina, spinach, strawberries, blueberries, and MCT oil.
My lunch and dinner vary all the time but i always eat some sort of protein at each meal.
My go-to snacks are of course my delicious protein balls, apple/peanut butter, carrots/hummus and homemade healthy desserts (brownies/banana bread) that I've been making recently.
I definitely have a huge sweet tooth so I love to have pizza, hoagies and ice cream just like anyone else and I really believe there has to be a balance if there is going to be any sort of progress with your fitness goals.
There is a huge difference between now and when I was working at Lifetime in regards to my diet. The hours I worked were 6am-3pm so my breakfast was still the same but I used to meal prep my lunches every week. That made it very easy for me to keep a healthier diet.
I no longer meal prep since i have been home and the gyms have been closed. That's another reason why I am doing more cardio every day.
I try to shock my body with workouts every so often and switch up my workout routines so that I will not hit a plateau.
Since Covid, I have used a lot more body weight, bands and lighter weight with more reps and sets in order to get a great workout in and to make it feel like I cant go anymore.
I have a very no-quit, lets go, never satisfied type of mentality when it comes to sports and lifting. I believe I can always give more and I try to get 1 percent better every single day.
As far as the supplements i take every day, I always have Vegan Protein powder (Lifetime Fitness), MCT oil for brain health, and I take a variety of vitamins as well. The vitamins I take are from the Micro Factor Pack by 1st Phorm.
Along with the Micro Factor Pack I also take a Calcium/Magnesium pill and a Tumeric pill The Micro Factor has an antioxidant, multivitamin, Probiotic, CoQ10, Essential Fatty Acids and a fruit and veggie vitamin.
Just recently I ordered an in depth scale for my house so I can start keeping track of my body fat %, weight, and muscle mass. I would keep tabs on my progress when I was at Lifetime at least once a month on my measurements.
I will now be doing it weekly to hold myself more accountable.
My boyfriend just recently got me a Garmin watch to help me keep track of everything I do throughout the day which is absolutely amazing and I am obsessed with it. It tracks my intensity minutes per day, my heart rate zones, resting heart rate, steps, calories, water intake, every exercise I do, etc.
I made a goal for myself to drink at least 84oz of water a day. Drinking enough water throughout the day is definitely one of my weak points so I challenge myself every day to drink as much as I can.
I add lemon in my water in the morning to help liven up the taste a bit which definitely helps.
I have a bunch of favorite exercises I love to do. I love doing back, shoulders and legs.
My favorite back exercises are lat pull down and pretty much all row variations especially barbell rows.
My favorite Shoulder exercises are dB shoulder press, dB/cable lat raises and front raises, reverse cable flies and barbell push press.
My favorite leg exercises are dB split squats, leg extension, box jumps, lunges and deadlifts.
👊 How do you keep going and push harder?
---
I just know that every rep and every set gets me closer to where I want to be.
---
I keep myself motivated honestly by the results I see from all the hard work I put in. Some people don't realize that it takes years and years for someone to build all of the muscle that they have today.
I just know that every rep and every set gets me closer to where I want to be. I have always been a very active person and I just get very uncomfortable when I am not active or not moving.
I listen to a lot of personal development audio and read a lot of books that keep my going as well. I love listening to Tony Robbins, Andy Frisella, Eric Thomas, Les Brown and Billy Alsbrooks.
There always has to be a healthy balance of fitness and personal life like I mentioned before but if fitness is a priority to you, then you will find a way.
I always loved the quote "Champions find a way" and "You can have results or you can have excuses but you can't have both."
I actually keep a list of motivational quotes on my phone that I've gathered from all over throughout the years and I just hear a lot of them being repeated in my head when I want to give up or quit.
In my eyes, everyone can always improve and everyone can always keep growing and getting better so I just don't take excuses as a way out.
I let the results motivate me and I let overall health motivate me. I don't have kids but when I do I want to be healthy and fit for them and lead a positive lifestyle example for them to follow.
🏆 How are you doing today and what does the future look like?
I am doing great today! I have been adjusting just like everyone else to this "new normal" of not having a gym and making do with I have.
I have been spending a lot of time outdoors on hikes, exploring new places, taking the puppy for long walks, and spending time on my Protein Ball Company! The plan is to have the site up and running in the next few weeks and I couldn't be more excited!
🤕 How do you recover, rest and handle injuries?
I always listen to my body in order to recover properly. If I had an extremely hard workout one day but I feel ok in the triceps and biceps the following day, Ill do some light accessory work and stretching the following day just to keep moving.
My recovery days usually consist of stretching, foam rolling, hypervolting (massage gun) and getting a massage and cupping done.
I actually have my own cupping set so my boyfriend and I have been able to cup each other during this quarantine which has helped out immensely to help speed up recovery.
I absolutely love getting massages so when I was at lifetime I would get a massage at least once a month.
Occasionally I'll do the sauna and hot tub for recovery as well. It is so important to recover properly if you want to really see any results.
I always make sure to get enough sleep as well. I usually get anywhere from 7-8 hours of sleep.
I absolutely LOVE to travel. So being able to keep a fitness schedule while traveling is definitely very difficult but I try my best to keep workouts, diet, and sleep as regular as I can.
When I travel I take my protein powder with me, my own homemade, healthy snacks to the airport (protein balls, fruit,nuts etc.) and I make sure there is a gym in the hotel.
If there isn't a gym where I'm staying I'll look up to see where the closest one is or I'll just do my own body weight workouts to just get a good sweat in if I need to.
There is always something that can be done so I make sure not to fall off too hard while I'm traveling.
I also love to explore nature and go on hikes whenever I can so I definitely put that at the top of the list when I'm traveling as well.
🍎 How is your diet and what supplements do you use?
---
I believe all health starts on the inside which will make your outsides feel amazing.
---
My diet is pretty balanced for the most part. I try to keep to a schedule every day so that it is consistent and easy to follow.
But you know life does get in the way and I have a huge sweet tooth as mentioned above, so if something is calling out to me that I want to eat, I'm going to eat it 🙂
I make sure to take my 1st Phorm vitamins every morning along with Calcium/Magnesium supplement and a Tumeric supplement as well.
I believe all health starts on the inside which will make your outsides feel amazing. I do not count calories or track my macros but I know that is an extremely great way to reach your goals.
I am completely open to doing it if there comes a time when I need to, but for now I just eat relatively healthy and workout hard.
Every few months however, I do complete a two week detox program designed by Lifetime Fitness and I think it is such an incredible detox!
I believe it is so important to reset your body every few months and see what foods your body may be sensitive to. This detox is very detailed and structured.
There are complete guidelines to follow, recipes and grocery lists given, and a special, medical grade protein mix along with fiber that is included as well.
You eliminate the six most common allergens in the modern diet which include; Cow Dairy, Corn, Eggs, Gluten/Wheat, Soy and Peanuts.
This detox program has been the best program I have ever done. You really learn so much about your body that you may not have known. When I completed this detox, I felt more energy, less bloated, had more strength, and definitely leaned out a bit too!
As far as drinks go, I mainly stick to water. I have recently been getting into carbonated water to spice things up a bit with the flavor.
I do like a good coffee drink now and then but I like coffee more for the taste than for the caffeine. I make my own cold brew coffee at home and that has been working out great!
I put almond milk, a little honey, and cinnamon in my coffee and it tastes amazing so ill have that when I'm craving something sweet.
As far as other cravings go, If I absolutely need chocolate, which I usually do every day, I have one of my protein balls!
It honestly is the perfect healthy snack that tastes like dessert so its the best of both worlds! Its the perfect pre/post workout snack and I make five flavors; Pumpkin coconut, brownie batter, peanut butter chocolate chip, funfetti, and mocha chip.
👍 What has inspired and motivated you?
I get inspired and motivated by listening to Tony Robbins and Andy Friscella podcasts. I usually listen to some sort of podcast/audio book when I am working out or doing cardio.
One of the most inspiring people I have read about is David Goggins. I listened to his audiobook called "Can't Hurt Me: Master Your Mind and Defy the Odds" and it definitely resonated hard with me.
I love hearing about other people's stories and their hardships and what they have overcome to get where they are.
It really puts your own life into perspective and makes you think that if they can do it, so can I! David Goggins has one of the most inspiring stories I have ever heard and he is a no bullsh*t guy which I absolutely love.
If i am not listening to a book or podcast in the gym then I am listening to music. I love to listen to music that will pump me up in the gym or inspire me.
I love to listen to Big Sean, Kid Ink, Tory Lanez, Chris Brown, etc or anything that is fun and has a great vibe and beat.
I am lucky and blessed to have such amazing friends that really inspire me not just in fitness but in life. I grew up with friends that were always motivating me and challenging me in ways when at the time, I had no idea it would help me get better as a person.
We would always have competitions with each other and when it came time to prepare for preseason for our first year of college, we would train hard together and make sure no one would out work us.
I met a girl in my gym last year that came up to me and just said "dude your ripped! Want to work out together sometime?" And from that point on we became really good friends!
She has taught me so much about life and workouts that I never even knew about.
I think everyone who comes into your life is there for a reason and I'm so glad to have such amazing people in my life who I can not only workout with but can also learn so many things from. We motivate each other, challenge each other and keep each other accountable which I am so grateful for!
And who can forget about my amazing boyfriend!? I actually met him at the gym as well and he is just such an incredible person that always supports me in everything I do.
We motivate each other and keep each other accountable as well with workouts, diet and so much more. He's the type of person that you can go do a hard workout with and then go pig out at the Cheesecake Factory afterwards with (that's my kinda guy :))
I couldn't be more grateful for him because he has been my rock through all the ups and downs that come along in life and I am super excited to see where this journey takes us.
✏️ Advice for other people who want to improve themselves?
---
---
If I were just starting out in fitness, I would try to learn as much as I could about what it is that I am trying to do.
For instance if I wanted to get lean and strong, I would read, watch videos and reach out to a personal trainer about all of this so that I could become great!
I think everyone needs a personal trainer, mentor, or coach of some kind if they want to reach the next level.
I think there are a lot of misconceptions out there about personal trainers and what they can really do for you if you have the right mindset and attitude.
Even though I'm a personal trainer, when it comes to my workouts, I LOVE training with other people and having them lead the workouts, learning from them and growing from them.
There is no better feeling than to learn something new (new technique, new exercise) from someone that is on another level than you.
I would also seek a nutrition coach as well. People don't seem to realize that diet is EVERYTHING and if you're not eating how you should be, then you will definitely not see the results you are looking for.
Fitness should be fun! Getting healthy is a lifestyle, not a short term solution. You need to be able to maintain healthy habits for life and if some things need to be adjusted that is perfectly ok! Just keep moving!!
🤝 Are you taking on clients right now?
I am currently taking on new clients. I am just doing online training right now because of Covid but once the gyms reopen I will be taking on new in-person clients as well.
I stand out from other trainers because I make fitness fun! I challenge them to become better and I teach them everything they need to know so that they can always become a better version of themselves and reach their goals.
Depending on the clients goals, I cover a wide range of workouts. I do everything from weight/strength training, High Intensity Interval Training, Circuit Training Stability/Core, plyometrics, cardio, etc.
I start from the basic fundamentals to make sure the client is doing the proper movements correctly. Then we build from the ground up.
I know that if someone is really serious about changing their lifestyle habits, is coachable and is determined, then we will get along great and crush their goals together!
📝 Where can we learn more about you?
You can learn more about me from my Instagram – @JodySokol and you can always email me at [email protected]
You can also follow my Protein Ball Company on Instagram at @Simply_Strong_Eats and can order directly through me by sending me a message!
My website will be up shortly and I am so excited to help people replace their boring unhealthy snacks with my all natural, gluten free, healthy protein balls! #SimpleIngredients #StrongResults